Founded in 2005, Eastwise is your sourcing and procurement office. Our head office is based in Hong-Kong and the company is composed of a team of 30 people spread out in China, Taiwan, Vietnam, Singapore, Malaysia, India and Tunisia.
Today, as part of the construction of our CSR approach, a new expert in purchasing and CSR is joining us: Marjorie Hobin – founder of Mind Up Consulting. For this occasion, we are pleased to present her in an interview with Cyrille Littler, our CEO.
A common vision for Eastwise
Marjorie Hobin, who are you? What is your professional background?
I am French by birth, Lorraine by heart and "Shanghaian" for over 16 years.
Freshly graduated from EM Lyon, I plunged into the wonderful world of purchasing in 2006 within Saint-Gobain Building Distribution in Shanghai. For nearly 8 years, I developed an expertise in strategic and operational purchasing issues, supervising the sourcing teams and then the operations and marketing functions of the office.
With this experience, enhanced by a World Tour in 2013-2014, I decided to create my own consulting company. My goal: to improve the resilience and performance of the entire supply chain in a sustainable way, through partnership and shared value creation.
Fluent in Mandarin and SA8000 qualified, I have been supporting brands, manufacturers and producers in their purchasing/CSR strategies and their deployment in the field, in Asia and Europe.
How are you a specialist in tailor-made solutions to deploy CSR policies in purchasing?
I am convinced that "tailor-made" is the only way to implement a relevant CSR approach. Each organization is different, with its own culture, strong individualities, a specific collective dynamic and a unique field/supply reality.
CSR can be a formidable tool for improving purchasing performance, but there is no "ready-made recipe": co-constructing an effective strategy requires pragmatism and in-depth knowledge of the field and the organization's realities.
Cyrille Littler, why did you call on Marjorie?
When we launched our CSR process, we realized that we lacked in-house expertise. It turns out that we have known Marjorie for several years and having had the opportunity to work together on other subjects, I must admit that I appreciate her expertise as much as her professionalism and human qualities.
She was an obvious choice, but she still had to agree to accompany us, which she did to my great pleasure.
MH: You have been appointed Advisor to the Board of Directors at Eastwise. What will your mission be?
First of all, I am very happy to be embarking on this great adventure with Eastwise and I thank Cyrille for his confidence!
My mission within the Board will be to help him and his co-directors to better understand and integrate CSR issues into the long-term strategy of Eastwise.
How can I do this? By informing them and reporting regularly on the actions taken and to be taken, the best practices, the challenges and how all this will fit into their DNA and corporate culture.
CL: What will Marjorie bring to Eastwise?
Her expertise on CSR issues, but more generally, her knowledge of Asia, of our challenges, to be able to challenge us on a range of topics. CSR is not a subject that is confined to one area, but a process of individual and collective transformation for which it is necessary to have a 360° vision.
MH: How will you work with Eastwise and its clients/suppliers/partners? What is your method?
As Cyrille says, the approach is both individual and collective. It stems from a strong desire on the part of management to challenge itself, to review its fundamentals and to integrate its values into all its practices. It therefore requires an approach to all stakeholders.
Listening, common sense, pragmatism and co-construction are the key words of my methodology. I have already worked with some of the Eastwise teams and I salute their commitment, team spirit and openness to these issues!
The first step is to set up a materiality analysis, a tool that will enable us to map Eastwise's CSR issues and to cross-reference their importance for the business with the expectations of customers/suppliers and internal teams. This will result in a tailor-made strategy and roadmap that is anchored in time.
CL: How does this new CSR strategy fit with Eastwise's values and purpose?
Let me start with our company purpose: "Provide innovative sourcing and procurement services through trusted global partnerships"
We build our business with partners, customers and suppliers, to whom we must offer the highest standards in terms of transparency, ethics and professionalism. It is the way we conduct our business that will give them confidence.
Social and environmental issues, which are already present in our teams, must now be clearly assumed by defining our objectives and the means implemented to achieve them.
MH: What is your state of mind (in one word)?
Enthusiastic!
Cyrille Littler: The final word?
We are undertaking an in-depth change that will have an impact on all the teams and partners. I know that Marjorie will be able to accompany us on this path and I would quote one of our values: "We are bold, adaptable and always learning".
In short, let's be bold and everything will fall into place naturally!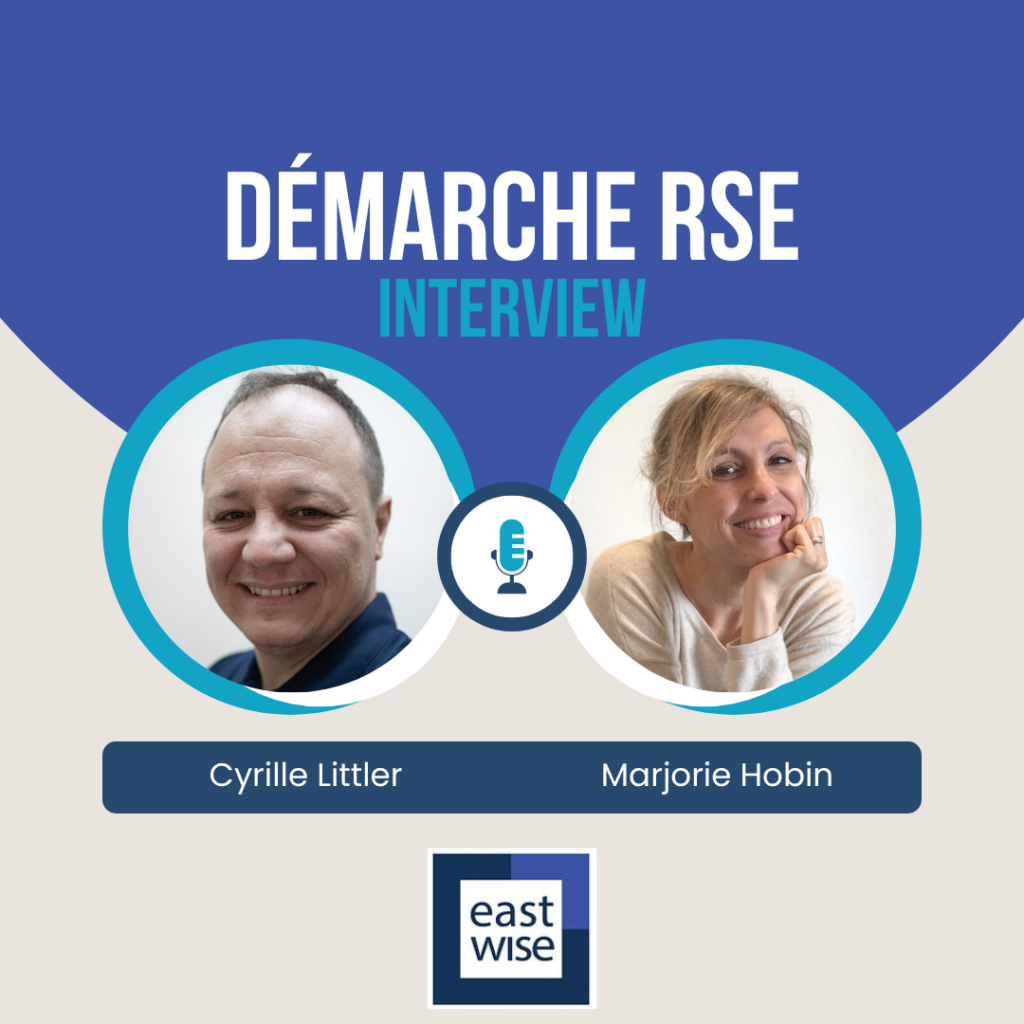 Do you have a project? Let's talk about it!