At the dawn of a new year, it is time to take stock: to make the best of 2022, and to look to the future with enthusiasm, with ambitious and realistic perspectives, to make 2023 a collective success!
What we want to remember from 2022
Even if it was not a happy year for everyone, a lot happened at Eastwise in 2022!
How about some figures to illustrate our point?
50 Million USD: the amount of purchases managed on behalf of our clients, an important milestone in the development of our business!
4 new clients
54 new suppliers
1,550 orders: an absolute record!
6 new arrivals
and 1 office opening in Vietnam
These figures give us a certain stability and continuity in the trust our customers place in us. But they would be nothing without the excellent spirit of our teams who have remained stable and united on a daily basis despite the difficulties linked to Covid in several countries where we operate (China, Vietnam, etc.).
This unwavering commitment has enabled us to improve our quality of service and better satisfy our customers. This is what we call a "collective success", and what gives meaning to our company.
What motivates us in 2023: our commitments
In a difficult economic context, 2023 is clearly a year full of challenges!
With the reopening of the Chinese borders, this new year should offer us many opportunities to seize in order to provide the best quality of service to our customers.
So, with versatile, adaptable and rigorous teams, with an acute sense of organisation and ready to take up any challenge, we have two major ambitions:
1/ To raise our personal and collective standards
Since the creation of Eastwise, we have been moving forward as a team, but with our recent developments, it has become necessary to define, share and communicate our purpose and our common values.
We are proud to present them to you today:
Our purpose:
Provide innovating sourcing and procurement services through trusted global partnerships.
Our values: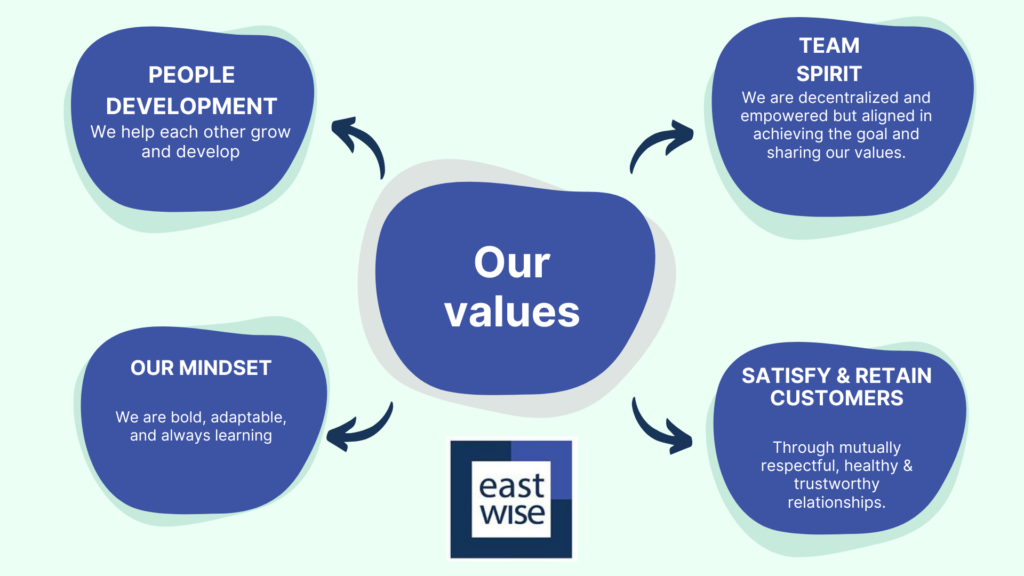 2/ Keeping our commitments and anticipating your expectations
As part of our social and societal commitments, in 2022 we began a CSR process with Marjorie Hobin – founder of Mind Up Consulting, a purchasing & CSR expert in Asia. We are aware that this change, undertaken in depth, has an impact on all our teams and partners.
Bold at heart, we are now in the development phase of the action plan and everything should fall into place naturally. Count on us to tell you more about it very soon!
In addition, for several months now, we have noticed a strong demand from our clients for increased support in South-East Asia.
To this end, we have strengthened our team in Vietnam with a clear objective: to identify factories that meet your CSR criteria, in terms of quality and price, in order to effectively develop your new projects.
Finally, we announced it in 2022, and it is in 2023 that we will achieve it: the optimisation of our digitalised processes.
This is one of our priorities, which should provide us with better responsiveness to our customers, but also help us manage our relationships with suppliers, thanks to the launch of a new digital tool – an SRM. This customised platform will enable digital interaction between our customers and their suppliers to increase both efficiency and transparency.
2023, here we come!
After the global turmoil of 2022, we are more than ever ready to listen to our customers and to stand together to continue to move forward together and face the challenges ahead.
And you, are you ready for new purchasing projects in Asia?

Do you have a project? Let's talk about it!